I believe my company has been able to help many Carpet Cleaning Professionals when they are in a jam, especially consulting on weekends  needing my advice to get their different Name Brand machines running correctly.YES, even if they never purchase one of our many Blue Baron Carpet Cleaning Machines, Heaters, accessories, etc. from me.

Unlike most Manuafacturers, we are open 6 days per week to answer all your questions and to provide Techincal support when you need it.

I can appreciate what it feels like when that particular Factory Service Center conveniently closes at 5 PM on Friday and where no Technical Support can be found anywhere. I know, cause I have been there before many years ago when I first started in the Carpet Cleaning business.  

In a Challenging Economy we have today, it is nice to keep America's Cleaning Businesses Turning.

I firmly believe what comes around goes around.

Sincerely, Pete Garland (CEO, Designer & Builder) 

There Should Be Never A Stranded Moment!

Examples of Our Commitment to Customer Satisfaction for Service and Quality.

.

Hello Peter,

Well I have had my truck mount for eight months now. I didn't want to

write anything about the unit until I had really used it for awhile on a

day to day basis. Now that I have used it, I just want to say what a great

machine it truly is! Constant super suction and constant super heat! Peter

is easy to work with and is very knowledgeable and passionate about these

truck mounts. To give an example of the customer service, I messed up my

pressure relief valve (due to my own fault) and called Peter to see if he

could help me out. He was at the post office an hour later overnighting me

the part I needed and even payed for shipping. Purchasing from Peter

has been a great experience for my business. Thanks Peter! 

Sincerely,

Keith Messenger

We received our Blue Baron 45SE in Sept. 2012 and have been using it for the past couple of months now (without any problems)and its performance has exceeded our expectations. Pete has created a great design with his units and solved any problems that other units in the industry would have. His craftsmanship and the use of quality parts along with the openness(accessability) of the unit makes it worth its price. We did some shopping around before choosing to go with Pete and we can honestly say for the quality of machine and everything else that comes with this unit it is definitely the best price out there. Pete's four stage heat exchanger design with diverter has been exceptional with strong and consistant heat when needed. Overall, Pete has put alot of thought, heart, and work into his machines and it shows in the machines performance. He is great to work with and will answer any questions that you have about his units. If we need another unit in the future we will definitely purchase from Pete again.

T & A Unlimited, LLC

Pickens, SC

​Business Tele: Furnished Upon Request

Email: aarflin@bellsouth.net

Name: Martin Hovatter

Email address:

kidderamanda@yahoo.com
Phone: Furnished Upon Request

Message:

What can I say about my heat exchanger? Excellent! Peter and his wife are great people to deal with especially with technical issues.Shipping and packaging was good and the exchanger was just as described.I will definetly be doing business with Blue Baron again-Thank You, Martin Steam-Works
T-Bowe's, LLC Carpet, Tile & grout Restoration

Thomas Bowe Sir & Jr

American Owned & Operated

Truck Mount System

Bonded & Insured

I am the owner of T-Bowe's Carpet Tile & Grout Restoration LLC and my Chevy 3500 is equipped with a Blue and Red Baron Truck Mount Carpet and Tile Cleaning Machines Made right here in the U.S.A. It tackles the toughest jobs with plenty of Hot Heat and and Power... It handles High Heat & High Pressure with easy... It hasn't let me, down running strong.. I am very happy with the owner, any question I have he is happy to help.. If you are in the market for a new Truck Mount or even a new 4 Axes SUPER HOT HEAT EXCHANGER Call Blue Baron Highly Recomended...

Like · · 

(813) 448-2277

www.t-bowes-carpet-tileandgroutllc.com

Name:

chris Nierling                                                                                            Jul 24, 2014 at 6:44 PM
Email address:

rugmaster7@aol.com
Phone:

352-572-9184
Message:

I am the owner of Chris Carpet Care Inc in Ocala/Belleview/The villages Fl. I hve had my own business for 20 years and been carpet cleaning for 34 years. I was around people that knew how to put machines together so I have had experience with different kinds of equipment. In all my years the heat exchanger that Pete makes is by far the best exchanger I have ever used. I get excellent heat off the engine. Its compact and well built. In the two years I have had it it has made a difference in my cleaning excellence. Thank you Pete for a wonderful piece of equipment. Chris Nierling Chris Carpet Care Inc.
Name:

Russell
Orlando, FL

Contact Info Furnished upon Request

Message:

 Hi Pete, The Heat exchanger you built for me works perfect on my old cub.I very much appreciate the extra time and effort you offered me in removing the old heat exchanger and assisting me on installing the new one.Pete you went above and beyond to assist me when i needed to get my machine up and running and just want to say thank you ! Thank you, Russell Carpet Clinic of Orlando Inc

Name:

Jamel
Email address:

jhilaire@melloscarpetcleaning.com
Phone:

973-277-1860
Message:

Pete - Prior to purchasing your heat exchanger I used a Little Giant which produced good heat however the safety issues were too much to deal with. So I purchased your heat exchanger which can be outfitted to just about any carpet cleaning machine which makes it a must-have for a serious carpet cleaning professional and not only was it safe, but it also bought my cost down because I no longer needed to purchase propane and it performed perfectly! I highly recommend this unit to all carpet cleaning. I received the unit in excellent time and had no complications. Your service was just as good as your unit performs. I am looking to outfit a 2nd machine soon and look forward to doing business with you again! Thanks.
Name:

Marcelo Ioselli                                                             December 11, 2014
Email address:

mioselli@hotmail.com
Message:

Hey Peter. I just wanted to thank you for setting me up with my Blue Baron 33 SE carpet cleaner. The machine works great and your customer service is outstanding. My new business is off to a great start! 
Marcelo- Homewood, AL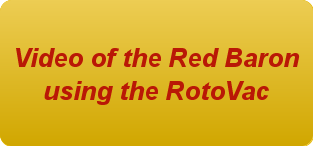 Hello,

  I spoke to you earlier regarding a receipt for a heat exchange that I purchased from you on 04/28/2014 for 1,107.45. My company is All Pro Floors & More, Inc. 

Also, I would like to let you know this is one of the best heat exchanges I have seen. It was equipped perfectly for my machine and my water is hot in seconds. I am very satisfied and happy with Blue Baron Carpet for their service and timeliness in delivery of my product. I would definitely recommend them. 

Thank you again!

Anne Marie Bailey

President

All Pro Floors & More, Inc.

Email: AllProFloorsandMore@outlook.com 

The Nation's **FACTORY DIRECT LEADER** in Heat Exchanger Truck Mount Technology

Blue Baron Carpet Cleaning Systems, LLC

Keeping your 

Business Turning 

without the MIDDLEMAN!










Name:

BRIAN LOFSTEN                                                                           May 1, 2015
Email address:

BRIANcharlie1@aol.com
Phone: Furnished upon request

Message:

Just wanted to let everyone how happy we were to purchase a heat exchanger from Pete. He is very professional & knows his work. Ordered a heat exchanger & header from him and received it in about a week. I hooked up everything & the header I ordered was a little wide because it was interfering with the pump belt. I called up Peter & he said to send it back and he would laser cut it & weld it for for me for no charge & send it back! Very happy with his service & product! Thanks again Pete! I am a happy customer & will be using you again . Brian
Don Hines                                                                        April 16, 2015

Perry,FL

Tele: Furnished upon request 

Hi Peter

I just wanted to let you I am very happy with my purchase of this Heat Exchanger. It was just a beautiful experience. I just thought I let you know.

Thank you and have a good day. Don